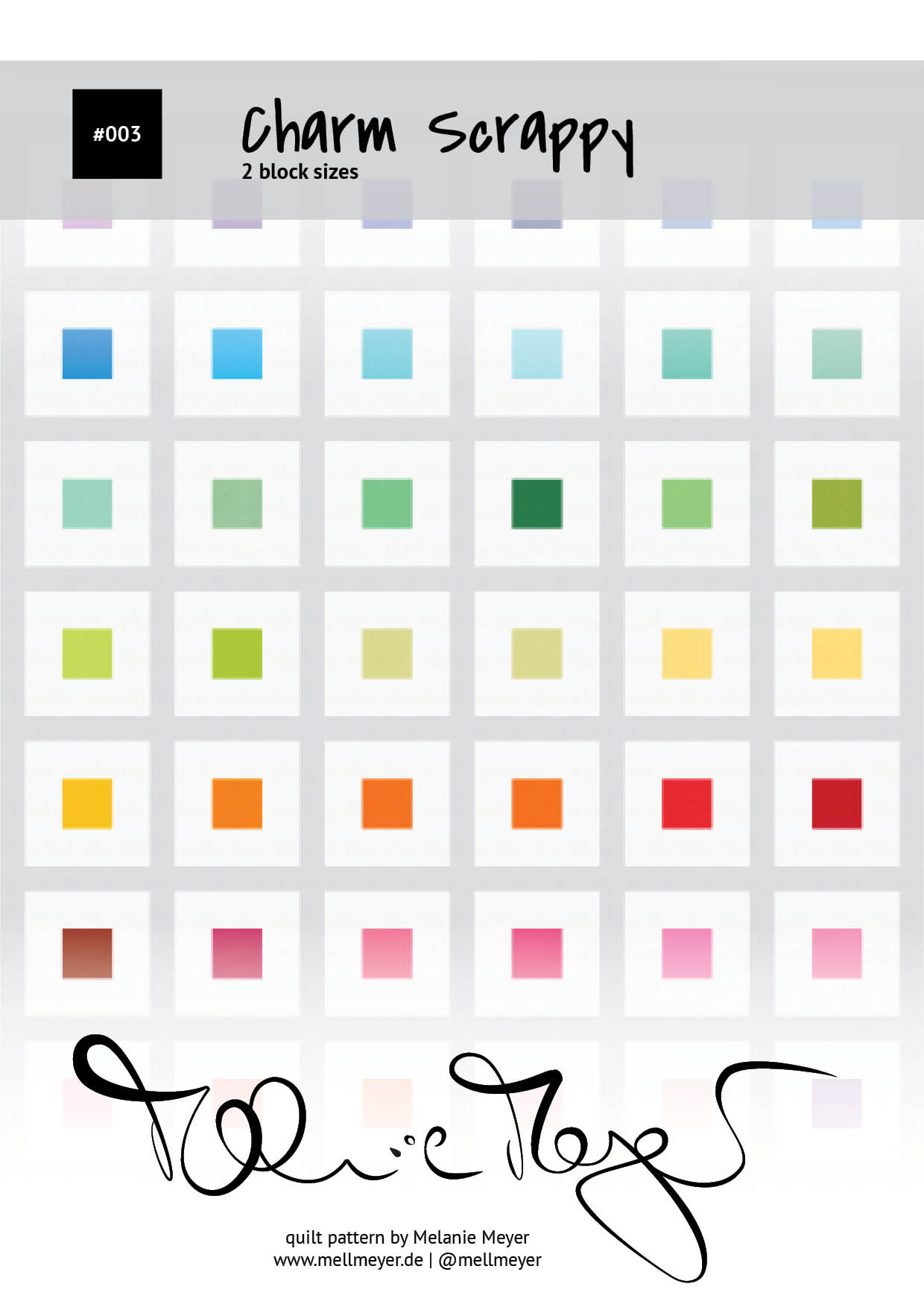 Charm Scrappy
On Sale
Charm Scrappy
quilt pattern by Melanie of
@mellmeyer
.
Introduction
Charm Scrappy
was inspired by my quilty friend Kirstin @augusthimmel. She made a quilt using a charm pack and lots of scraps. This is my version of charm pack meets "scrap fabric". I love the fusion of highlighting your favorite charms while in the process using up a few of the scraps we all collect.
This is a free aka "pay what you want" pattern.
It is totally ok, if you want to download it for free. But if you want to "buy me a nice tea", add whatever price you think is reasonable. I will very much appreciate it! xo Melanie
Content
This pattern includes instructions for two charm pack sizes: The standard 5.0" charm pack and the 2.5" mini charm pack.
The layout uses 42 blocks as that is a common number in charm packs. But you can easily make the quilt bigger or smaller by adding or subtracting blocks.
Also included is a coloring sheet.
Including a link for a .jpg file if you prefer digital coloring.
Skill Level
Beginner | Pattern assumes that the quilter has basic piecing and quilting knowledge.
The block in this pattern is very simple and also very forgiving as it is supposed to be built from "scrap fabric".
Technical Stuff
You will receive a .pdf file for instant download at checkout; also being delivered to your email after your purchase is complete.
Limited number of downloads, so please save to your device.
PDF can be viewed on your device or printed. You will at least need to print the template pages.
The page format is A4, but the pages are set up in a way that you can also print all content onto a letter sized paper without losing any information.
Copyright
Pattern is for one person use only. The pattern is intended for non-commercial use by home sewers and may not be reproduced or distributed without the express written consent of the author. Printing a single copy for personal use is permitted.
Inspriation & Social Media
For further inspiration visit my website
www.mellmeyer.de
and look through the Instagram hashtag
#mm_charmscrappy
.
For questions or additional information, please don't hesitate to contact me at
mail@mellmeyer.de
I am looking forward to seeing your version!
Best wishes
xo Melanie